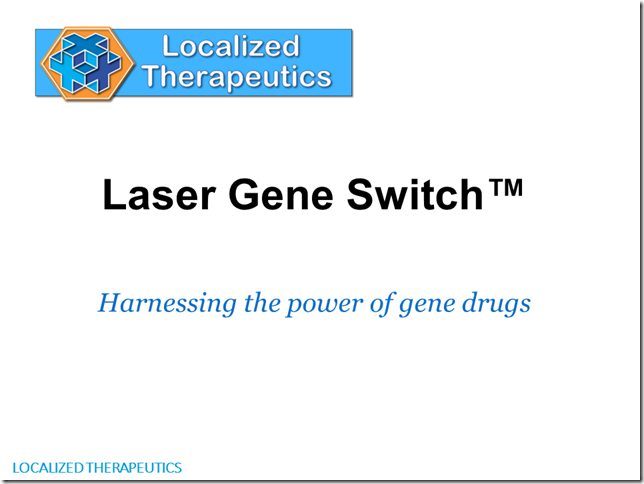 We are a biotech venture developing Laser Gene Switch technology, the
key to harnessing the power of gene drugs.  Our Laser Gene Switch adds On/Off control
in a safe and natural manner.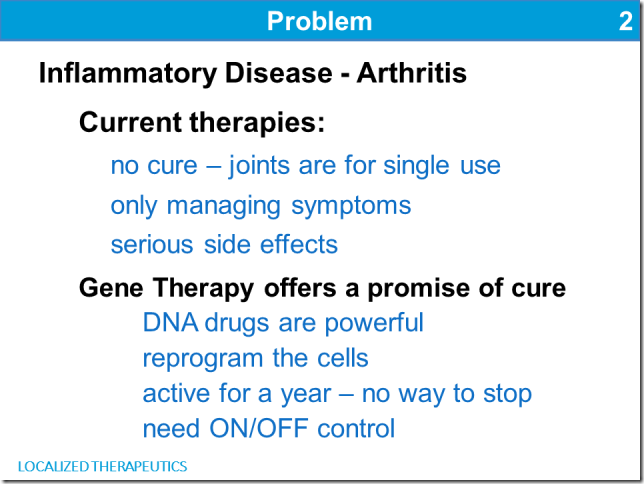 What problem are we solving?
We are focused on a major medical condition, that of inflammatory arthritis
Unfortunately current therapies don't offer a cure for arthritis, they only manage the symptoms, delaying joint degradation and minimizing pain.  The ultimate result is surgical replacement of the joint, which brings a host of new problems and with a limited lifetime.  So, current remedies cannot solve the problem, have serious side effects and risks that must be evaluated against quality of life.
Among medical innovations most promising is gene therapy, which uses special drugs made of DNA.
These DNA drugs are very powerful. They can actually reprogram the cells with the potential for stopping and possibly reversing joint degradation.
Gene therapy solutions would also require fewer doctor visits – one shot is good for a year.
Sounds great, so what's the problem? With DNA drugs, they are on all the time,  if something goes wrong, there is no way to stop the treatment (too much of a good thing can be bad).
There is a clear need for a means to control the gene drug activity in the body.
This is a huge safety issue and we are solving it.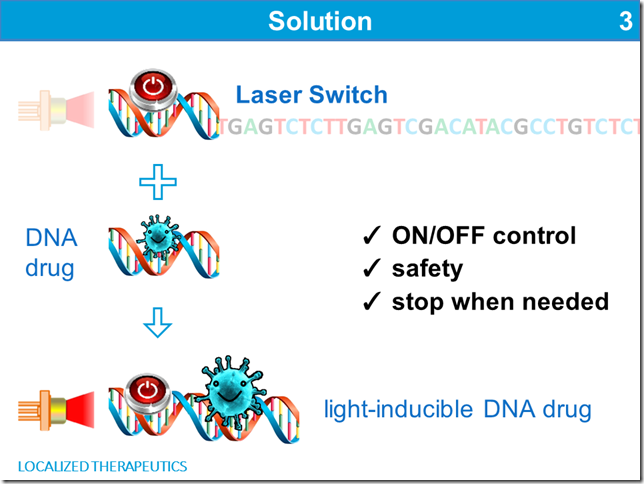 So what is our solution to this problem of control?
We solve it with the laser light.
Our Laser Gene Switch is a proprietary DNA sequence inducible with laser light, this means when our LGS is attached to a gene therapy DNA sequence (Transgene), that therapeutic transgene now has an On/Off switch.
This offers a radical improvement in safety, and adds localization of action.
When we say safety we really mean it.
Without our switch, the gene drug is like a car without gas and brakes. We offer gas and brakes.
Because Transgene therapy can last so long, (months to years), it adds a level of difficulty to successfully navigating the FDA clinical approval pipeline, and many excellent gene therapy drugs can be stuck in Phase II or Phase III trials with little chance of gaining final approval.
When you stop and think in patient terms, do you really want to have a drug active in your body non-stop for a year?  The FDA doesn't think so either.
Patients are different one from another, and your body changes with time and other factors. The ideal situation is to have a drug working in your body when you need it, say during a back pain episode, and then stop when the pain is gone.
Our Laser Gene Switch solves this problem for any gene based drug.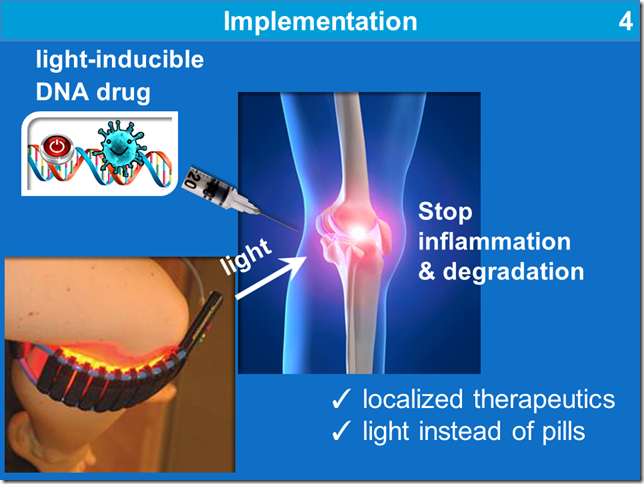 What will a real life application look like?
With our technology, the therapy is going to be very user friendly. You would come to the doctor's office only once a year to get a shot. A nurse will inject a light inducible DNA drug in your joint (our LGS coupled with a transgene).
The drug will be inactive without light, you apply the light for 10 minutes, the DNA drug starts working making natural medicine inside the joint, stopping pain and inflammation, improving lubrication, restoring the cartilage. You stop the light, and the drug stops working in 12 hours
You will take home a laser wrapper shown here. and will apply light twice a day for 10 minutes as needed.  When the pain subsides you can turn the light off, or at any time.
This light source is already FDA approved for light therapy of arthritis, currently made in Wisconsin. It is designed to be used without drugs, only pure light. We are the only company which combines the light with DNA drugs.
Note that the treatment is localized to the joint. This is why we are called localized therapeutics.
there are no toxic chemicals involved.
This is a new paradigm in medicine. Instead of pills you are getting light shots.
That is why our motto is "Say no to drugs, embrace the light" literally.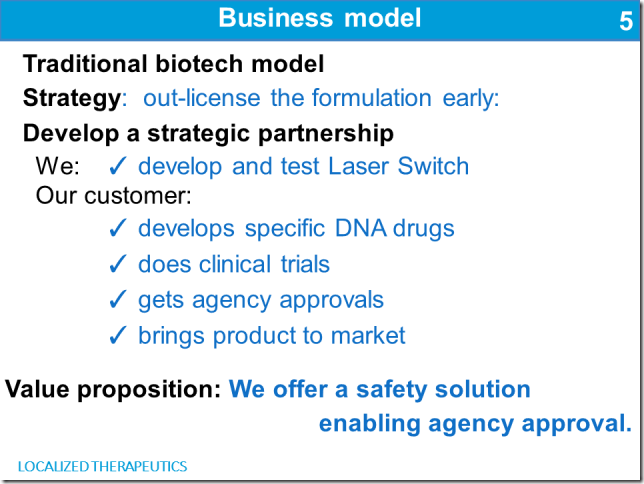 While our technology is very innovative, our business model is traditional for biotech.
We are often asked: do we need FDA approvals?
We realize it takes over a billion dollars and 10 years to take a prototype drug solution to market.
The answer is our customers and strategic partners will get the FDA approvals and take the product to market. We license our formulation early to the pharma companies for incorporation into the    R&D drug development, they have the resources and expertise to run clinical trials and obtain FDA approvals.  The only thing they desperately need is our Laser Gene Switch, to add the level of safety to successfully pass FDA clinical trials, and get the return on their research investment
So, we will develop and test safety formulations, licensing the technology to our partners.
And our customer/partners develop specific DNA drugs, do the clinical trials, get agency approvals and bring the product to market.
We have a patent pending on our formulation, and so can begin to talk with customers immediately, and have begun a dialog with one in Maryland.
Our value proposition? We offer our customers a safety solution, getting their gene drugs approved by the FDA.
In the words of Bob Tobin, "Oh, you just prevent people from dying, that is all."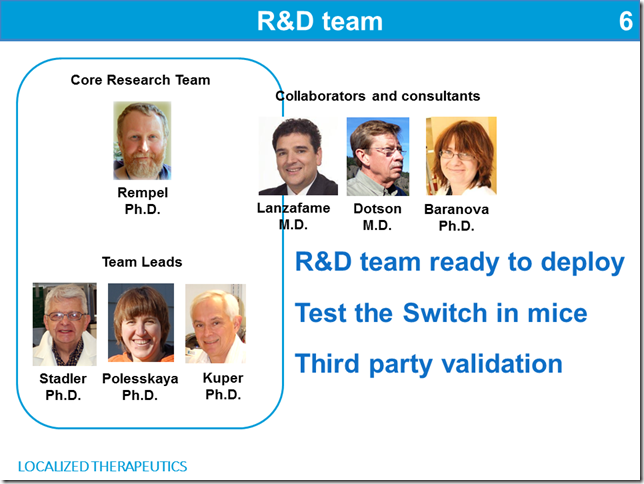 So our R&D team is ready to start right away.
Our next steps are to develop the mouse model and to have the efficiency validated by a third party.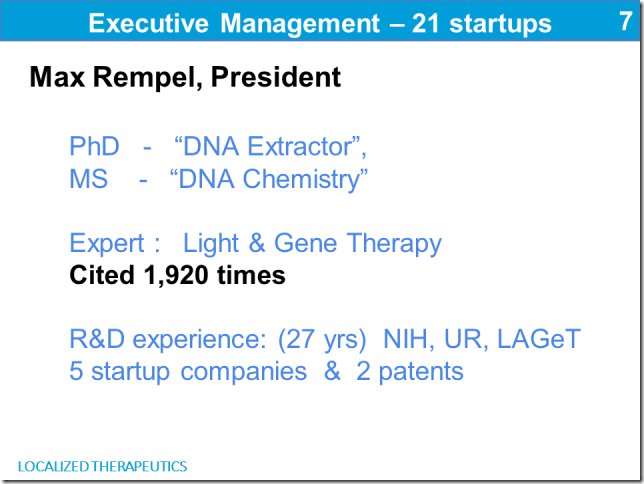 Max Rempel – President
Has more than 25 years of R&D experience in biomedical optics R&D. Served as principal investigator at LAGeT (Rochester N.Y.) performing biomedical optics R&D proof of concept. Founder of Localized Therapeutics, Inc and Healing Photonics to commercialize optical therapeutic applications.
Started 5 companies, filed two patents and has been cited over 1900 times.
Max's unique know how in the fields of Laser Therapy and Gene Therapy, (which we are calling Photogenetics),  makes him an asset to bringing this technology to market.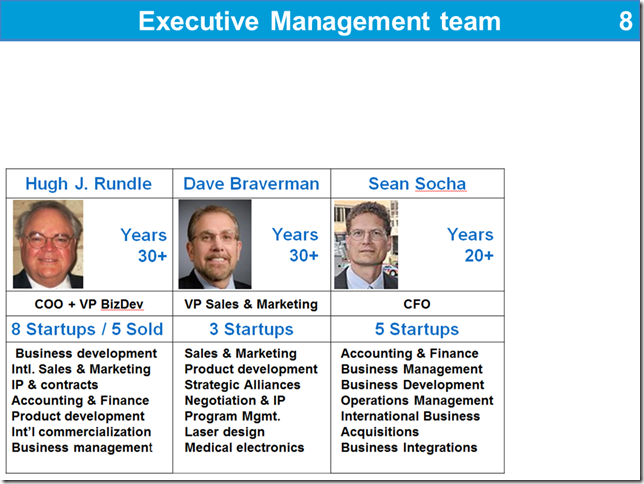 To round out our executive team we have:
Hugh Rundle – COO & VP Business Development with over 30 years of experience, he brings his business operations talent as well as everything we have listed. He has successfully started 8 companies, 5 of which he has sold.
Dave Braverman – VP Sales & Marketing, with over 30 years experience in sales and marketing for high technology international companies and medical electronics,  as well as a background in laser instrumentation design. I have been involved in 3 startups, one in the medical market.
Sean Socha rounds out the team with his financial background working in 5 entrepreneurial startups and over 20 years experience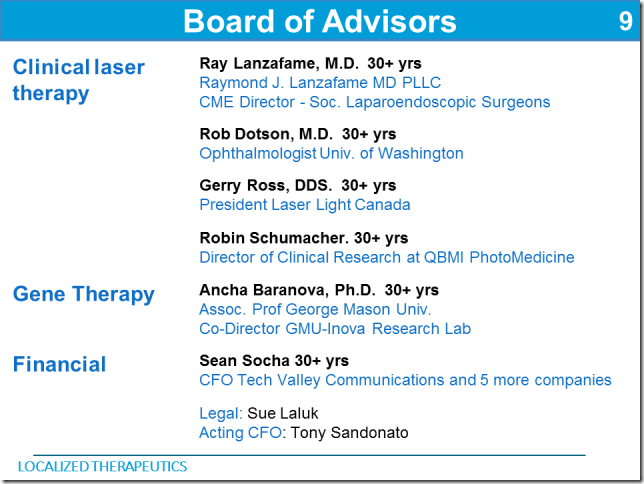 We have also secured a board of advisors, with expertise in clinical laser therapy, gene therapy and finance.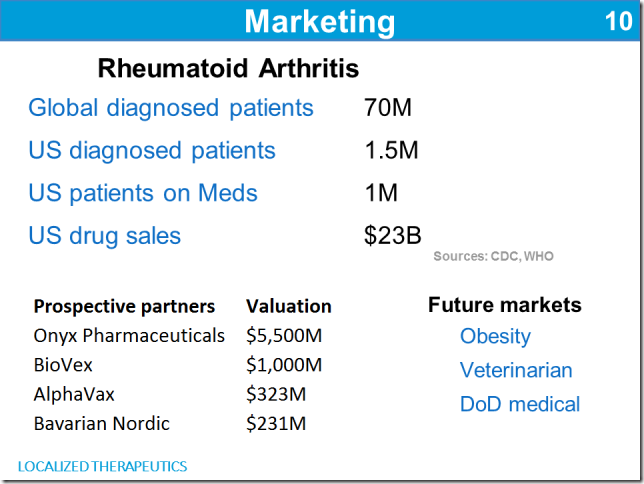 We are initially looking at inflammatory joint diseases such as arthritis, and focusing specifically on rheumatoid arthritis.  There are 70 million diagnosed patients with RA globally and over 1.5 million in the USA.  Of that 1.5 million, 1 million are taking biologic medicines, and the top seven of those drugs commands a market of $22 Billion.  The osteoarthritis market is 20 times larger than the rheumatoid arthritis market, and the current pipeline of new medicines to serve this market is almost nonexistent.
In the future, we will be able to offer solutions to the animal market, and the military medicinal market.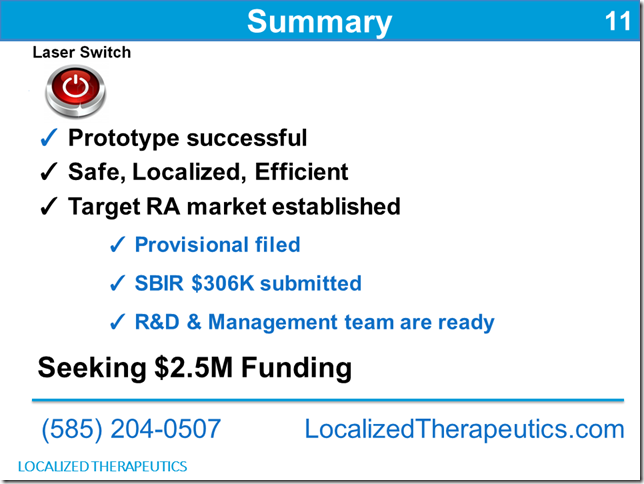 We have proved at the cellular level that our Laser Gene Switch does work.  It is a natural and safe way to control the expression of gene therapy drugs, keeping the effect localized, reducing side effects and risk.
Investment in our technology will bring the promise of gene therapy to market.